Like so many media organizations, I'm sure that yours too wants to get into contact with  us for interviews or information exchange or whatever it is your media does. We understand this demand, and therefore are making it extremely simple to get in touch with us. All you have to do is send a quick email to:
linear

…and tell us what exactly it is you would like from us. You have a 99% chance of getting it.
Previous Press Mentions
Here are some select places we've been mentioned in the press before…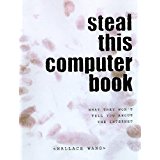 STEAL THIS COMPUTER BOOK:
WHAT THEY WON'T TELL YOU ABOUT THE INTERNET, Written by Wallace Wang
The United Phone Losers were referenced in all of the first three editions of Steal This Computer Book: What They

Won't Tell You About the Internet by Wallace Wang We are mentioned along side the Phone Losers of America, the Phone Rangers (now defunct), and alt.phreaking/alt.2600.phreakz as authorities on phone phreaking. Go figure.

Around 2006 (I believe), a newer edition, Steal This Computer Book 4.0 was released. Unfortunately, this was around the time that the United Phone Losers had temporarily gone defunct for a couple of years. As such, the 4th edition omits us.
CYBERSTALKING: HARASSMENT IN THE INTERNET AGE AND HOW TO PROTECT YOUR FAMILY, Written by Paul Bocij

In Cyberstalking, the United Phone Losers aren't painted as favorably as in Steal This Computer Book. Instead, we're presented as an example of what you should be protecting your children from.
THE BBS DOCUMENTARY LIBRARY
ETYMOLOGY: WORDS: KRAD, uknown author

In their online library, the UPL is referenced as the great etymology experts we are, letting you know where the word krad came from. We were probably way wrong, but don't tell The BBS Documentary Library that, we don't wanna ruin any body's credibility.  As far as I know (I haven't seen the DVD), we're not mentioned on the actual video <http://www.bbsdocumentary.com/library/ETYMOLOGY/WORDS/KRAD>.
CYBERPUNK: HACKER PROOF, written by Joab Jackson

In late 1999, we published an article in our ezine (Issue #16; "Security Alert – Secure Your Domain NOW!" Written by rbcp) detailing how to very easily hijack any internet domain name you wanted. Pick the domain, spoof a few emails, and you had it. By early 2000, Yahoo, CNN.com, Amazon.com, Buy.com, E*Trade, Datek, and RSA Security Inc had all been hijacked using our methodology.
Luckily, Mr. Jackson didn't imply our involvement (and according to the UPL legal team, neither should I), but he did state how impressive he initially thought the "hack" was. He then went on to say he was mistaken, that it was not impressive, and pointed to us as an example of how truly unimpressive people would have been able to do the same thing.
Jackson, Joab. "Cyberpunk; Hacker Proof." Published 16 Feb 2000. Baltimore City Paper. <http://www.citypaper.com/columns/story.asp?id=5569>.